Call us at +91 81407 33923 or Email us at info@akdezigns.com
We Offer Awesome Designs With Huge Features and Availabilities That Help You Create Unlimited Websites.
Hire dedicated resource from Ahmedabad, India for

Extend Your Reach On All Social Media Platforms
We work with a unique technique. Create image, content, hashtags for the post on social media like Facebook, Twitter, LinkedIn, Instagram, Pinterest, Dribbler, Flickr, Tumblr, and others. Create marketing ads, graphics, and images for any social network. Using our Digital Marketing Service. You have to do activities on social media platforms to grow your business. We create artwork designs for social media posts. We give the best support.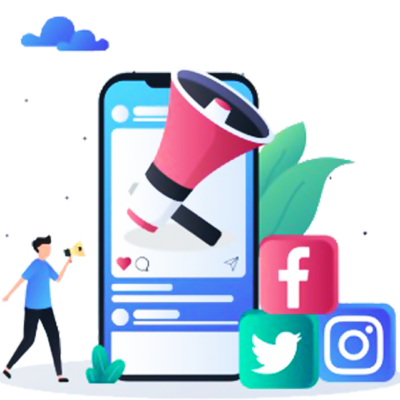 Social media channels like Facebook, Twitter, Instagram, and LinkedIn allow your business to reach more customers and boost brand awareness. In addition, you can use social media marketing to send traffic to your website and encourage more people to learn about your company, products, and services.
Sharing your company's content on social media is a great way to increase site traffic and ultimately conversions. Most digital marketing companies in the Ahmedabad offer social media marketing strategies.
Why Hire a freelancer Social Media Digital Marketing
Impress Potential Customers
Promoting your products and services
Check our work's Post Reach
If you are nervous about using social media to market your business, then you have loss your potential customers. So keep posting and increase your brand awarness and get website traffic.